This week has been anything but calm.
My sister is getting married tomorrow! So... we've been shopping, baking taters, cutting fruit & veggies, & today I will be baking. My husband is smoking Turkey & Brisket.
Oh and guess what! My Grams is in town! She is the strongest most amazing woman. I love spending time with her!!! But most importantly I want my kids to know her.
I will post pictures of the wedding and the food... too bad you won't be able to taste it though. I can't wait to have some of the meat.
Well, I really need to get baking but I also wanted to share a giveaway with you.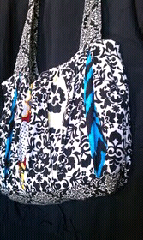 It is a bag I made and I love! Check out my good friend Halzey's blog,
Spunky Junky
y's blog
and check out more of her posts. This is a blog I check daily, this girl has so many different creative ideas flowing through her head. She inspires me! Anyways... check it out and be sure to enter!
Well, my baby & my baking is calling me... so you all have a less stressful day than I & make it fabulous!